Peaceful Heart Network is starting a clinic for de-traumatisation with TTT in Bukavu in DR Congo in co-operation with the psychology department of the Université Libre des Pays des Grands Lacs (ULPGL).  The rector of this university, Mr Victor Nabino, is very dedicated to do something for his countrymen of whom so many  are traumatised after years of conflict and war (and a history of slavery, colonialism and dictatorship). According to him the society becomes more and more dangerous as a result of all the trauma that people are carrying inside. Aggression grows out of trauma. After a training that we held at the  university last February 2010 rector Nabino wrote:
"Many students continue to use the method of TTT for detraumatisation and the results are good according the testimonies of the beneficiaries. From my point of view I have also found that the level of aggression among the students have diminished after applying the technique."
The clinic will start from the beginning of 2011. Apart from Mr Nabino our Trauma Tapping colleague Germando Moine Kagomba Barathi is responsible for the clinic. Mr Germando is a nurse and works with psychosocial support at BVES a well known organization rescuing and rehabilitating child soldiers and street children in Eastern Congo. BVES and it´s founder Mr Murhabazi Namegabe has also been nominated for The World´s Children´s Prize of 2011 (see: www.childrensworld.org).
We are now mobilizing funds to be able to buy the equipment needed for the clinic. If you can contribute with some resources, please let us know. Thank you!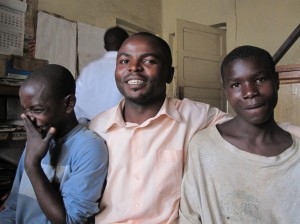 Peaceful Heart Network´s  TTT-clinic in Bukavu is managed by Mr Germando Moine Kagomba Barathi. Here together with two former child soldiers at the BVES transit center where he works with psychosocial support.